Villa Puolukka
---
(Villa Cranberry)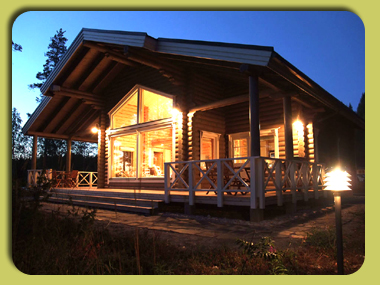 Villa Puolukka is located at the tip of cape, on the shore of Lake Saimaa, with a dazzling view to the lake. Ample open lake simply surrounds the villa. Building colored with gently tones are placed at the shore naturally and the ground bushwood is broken only by the glowing yard lights at nights.
The shallow sandy beach is an ideal place for swimming, the dock is long and on the bench you can admire a mellow summer evenings of calm Lake Saimaa. The spacious living room and large window open to the lake contributing to the uniqueness of the villa. Different seasons in the nature provide an atmospheric experience and create an enjoyable setting for a dinner.
There are two separate bedrooms downstairs. The balcony is spacious for accommodation and includes a superb view. Villa Mustikka has fully electrified which makes it a sunny and luxurious holiday resort all year round, so your first visit rarely stays as a last one.
Information and outfitting
round timber, area 120 m2
lr + 2br + k + hall + balcony
covered front terrace to the lake, area 55 m2
in the villa electrical sauna + bathroom + dressing/laundry room
8+1 beds
on the shore separated, woodheated sauna with dressingroom, also including a storage
full electrified , floorheating, AC with heat recovery, brimstone fireplace
machinery kitchen, eg. deep-freeze refrigerator, dishwasher, microwave oven, electric cooker, coffee maker, water boiler, toaster
dinnerware for 12 people including all kitchenware according the 5-star rating
laundry room, washing machine, cabinet drier, ironing epquipment, hair-dryer
vacuum cleaner, cleaning equipment and basic cleansing materials
LCD-TV, DVD/CD-player
garden furniture and barbecue on the terrace
dock and rowing boat, fishing equipment and life jackets in use freely
high chair for children
broadband internet connection
Rental of the villa includes
firewood and matches
toilet and kitchen papers for the start of your vacation
hand- and machine dishmaterials
pillows and blankets for 8 people
extra bed according the agreement
bedclothes and towels according the reservation, including fitted sheet, under sheet and pillowsheet and also sauna towel and hand towel for each person
cleaning on departure
---
On a separated lakeside sauna you can enjoy the great smell and smooth steam of wood heaten bathhouse stove.
Accept possible
ActiveX Control
---
Contact information:
Niilolan Huvilat

Ahvionniementie 251,
58650 Kiviapaja, Savonlinna

Tel: +358 40 756 4364
E-mail: sirpa.mikkonen@gmail.com
WWW: www.niilolanhuvilat.net
---
Reservation and prices
You can check the current prices and preliminary reservations from the Reservation-link above.Link will open a new window from Huvila.net service.
You can also make reservations via phone or e-mail.
---
Furnishings of the villa follows the surrounding nature, creating calm and natural atmosphere.
Furnitures are Finnish wood, handled with natural paints and protective compounds.
Fully equipped kitchen increases free time on your vacation.
Note!
smoking is forbidden indoors
pets are not allowed